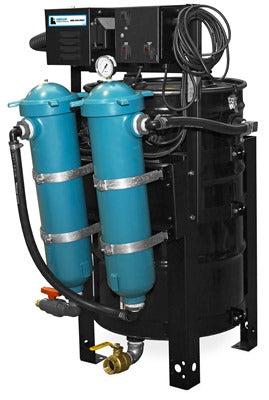 PWR Series Water Treatment System
Price reflects base model with no options. Additional charges may be added upon model selection.
The PWR Series allows for wash water to be reclaimed on the job site.  Water is reclaimed by using the 20-foot water berm (included) to stop water from flowing down a drain or away from your area.  The suction head draws wash water into a holding chamber where a second pump forces the water through an optional 10-micron bag filter before returning it to the holding tank for reuse or proper disposal.
Recovery & Recycle System
Features
1/3 HP transfer pump
Oil absorbing boom/sock
Vacuum tank drain
3-stage vacuum motor 
Stainless-steel suction head
Cam lock fittings
50-foot vacuum hose
55-gallon capacity
20-foot water berm
---
We Also Recommend
---